---
A major innovation: aluminium-core handle encased in silicone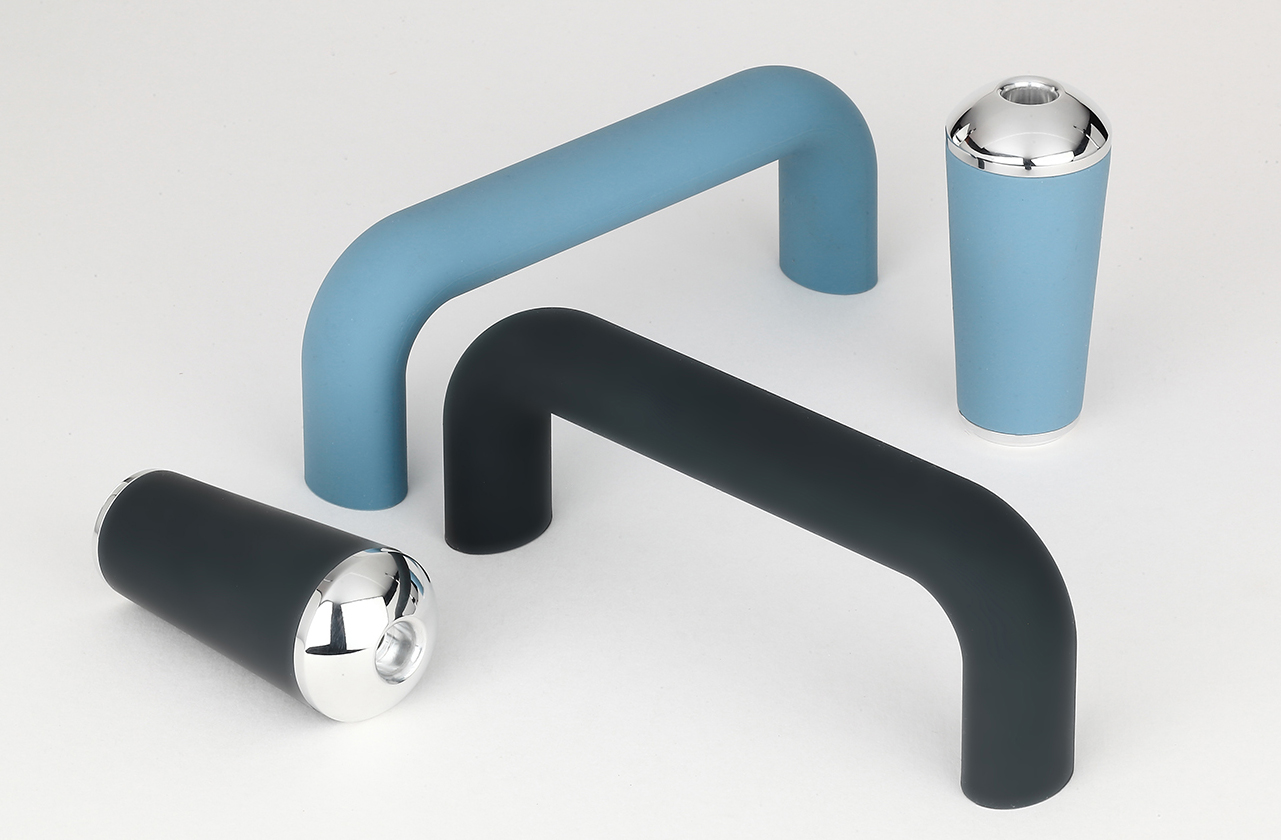 In September 2018, in response to a specific request from a Japanese customer in the medical diagnostic equipment field, BOUTET developed two completely new industrial handles: aluminium-core pull handles fully- and partially-covered in silicone. In order to meet the precise needs of its client, BOUTET spent months on research and development. The result of its labor is an international industry first in the field of high performance elastomers.
Responding to a specific need
The challenge was daunting from the start with an unusual request from its client: create a product that brings together extreme solidity and exceptional comfort, two paradoxical qualities. In response, BOUTET designed a handle with an ENTRAXE? so solid that it withstands wear and tear over time and extreme temperatures, yet is also comfortable to hold.
The high resistance of silicone combined with the extreme lightness of aluminum
With strength as a primary concern, developers chose an aluminium metal core — both sturdy and light-weight. And to ensure the comfort factor requested by the client, BOUTET selected a very high quality flexible elastomer: silicone, by far the most resistant elastomer. A considerable advantage of silicone is that its surface hardness can be regulated. The selected "70 SHORE" hardness yields a relatively firm material.
An aluminium-core handle promises ultimate comfort
The major concern in the development process was to discover how to bind the silicone to the aluminium. Despite numerous tests carried out over the last 15 years in Europe, Japan and the United States, no manufacturer had been able to attach the two materials under extreme temperature conditions. BOUTET needed to find a way to create a perfect bind between -35° and + 240° Celsius.
A group of six engineers, in collaboration with several special resins manufacturers, studied this process for 21 months. Numerous products were tested for their ability to adhere to aluminium. The optimal solution was approved after a 7-month test campaign
This resulted in two handles with a silicone thickness of 2 mm, boasting both exceptional comfort and strength.
A design worthy of technical prowess
The design of these silicone-encased handles demonstrates a technical tour de force. In addition to its incredible strength, silicone has the advantage of being available in an infinite variety of colors. The attributes of silicone compliment those of aluminium, creating these exceptional industrial handles.
Available in limited series of 2,500 pieces, fully- or partially-covered in silicone, these two new achievements bring beautiful design into the very technical industrial world.
The incredible attention to detail, the purity of its lines, the contrast of shiny and mat materials, the array of colors that add a personal touch make this product a shining example of excellence and ingenuity.
Extending the fields of application
Originally developed for one of the world's leading manufacturers of medical equipment, the main areas of use for these industrial handles are:
Aeronautics and naval,
Medical equipment,
Food processing equipment
High-tech industrial equipment.
Meeting the challenges of today's industrialists
In parallel with this development, one of Europe's leading cookware manufacturers, based in Germany, asked BOUTET to produce a long-lasting small grip knob that could withstand 260° Celsius with minimal heat transfer. BOUTET opted for a stainless steel core and successfully met its client's needs.
To meet its customers' unique and very precise requests, BOUTET custom manufactures these pieces. With 185 engineers in its dedicated R & D department, BOUTET has responded to an unprecedented demand, proving, once again, its ability to meet the ongoing challenges of today's industrialists.
Since its creation in 1925, BOUTET has molded more than 600 million industrial handles. Each handle proudly bears the engraving of the brand BOUTET, a nod to the brand's lasting quality and the challenges overcome, yesterday and today.
Tell us about your project
---